Welsh Home Employee Resources
THE WELSH HOME 11-17-2021
COMMUNICATION & POLICY SUMMARY RE: CMS (MEDICARE/MEDICAID) VACCINE MANDATE
SUMMARY
The purpose of the communication/policy is to make the employees of The Welsh Home aware that, effective December 5,2021, the facility is obligated to follow the regulatory mandate for all facility employees to be vaccinated. We have educated, encouraged and offered the vaccine to all of our staff as that is universally, scientifically and has been well demonstrated as the most effective method of preventing COVID-19. We are pleased with the large number of staff who have participated in the vaccination program and now reach out to the balance of those who have not yet been vaccinated.
As a requirement of our participation in the Medicare and Medicaid programs, our skilled nursing facility along with twenty other types of healthcare providers (hospitals, home healthcare, ICF/DD facilities, hospices, outpatient clinics, etc.) must now require all staff to become immunized against COVID-19 unless they fall into strictly defined categories.
The basic requirement is that all eligible employees must have one vaccine shot as of December 6, 2021 – that can either be the first dose of the Pfizer or the Moderna vaccine or the single dose Janssen/Johnson & Johnson vaccine, prior to providing any care, treatment, or other services or have been granted an exemption.
By January 4, 2022 employees are expected to have received their second dose of one of the multidose vaccines, as applicable except for staff who have been granted exemptions as outlined in the CMS rule, or those whom COVID-19 vaccination must be temporarily delayed as recommended by the CDC due to clinical precautions and considerations. Staff who have completed the primary series for the vaccine by January 4, 2022, are considered to have met the requirements, even if they have not yet completed the 14-day waiting period required for full vaccination.
The facility is by this policy/communication implementing a process by which staff may request an exemption from COVID-19 vaccination requirements based on an applicable Federal law. Certain allergies recognized medical conditions, or religious beliefs, observances, or practices, may provide grounds for exemption.
Those staff not in compliance with the CMS Vaccine Mandate and do not have an approved exemption by each applicable date will be considered a voluntary resignation with the option to reapply once in compliance.
DEFINITIONS
Fully Vaccinated. It has been at least two weeks since the individual completed a primary vaccination series for COVID-19. A primary vaccination series is defined as the administration of a single-dose vaccine, or the administration of all required doses of a multi-dose vaccine.
Unvaccinated. A person who has not received the COVID-19 vaccine or who has received only one dose of a two-dose vaccine.
Staff. Any individuals who work or volunteer in Facility – regardless of clinical responsibility or resident contact. Thus, Staff includes employees, licensed practitioners, students, trainees, volunteers, and others who provide care, treatment, or other services for Facility and/or its residents.
Staff does not include:
Individuals who work exclusively outside the facility and who do not have any direct contact with residents or other individuals who work inside the facility (e.g., individuals who work remotely or provide telemedicine services and individuals who work in a home office and do not have contact with facility staff).
Vendors who infrequently provide ad hoc non-health care services (e.g., elevator repairperson).
Documentation of Vaccination Status. Documentation that includes, as applicable: (i) whether an individual is Fully Vaccinated, in the process of becoming Fully Vaccinated, or exempt from vaccination; (ii) proof of vaccination; (iii) the date vaccination dose(s) were administered, including booster dose(s); (iv) requests for exemption and related information; (v) approval or denial of exemption requests; (vi) information relating to any delay of vaccination; and (vii) precautions to be followed by unvaccinated Staff.
VACCINE REQUIREMENTS
Staff will not be permitted to provide care, treatment, or other services for Facility and/or its residents unless they meet the following requirements or have an approved exemption:
All Staff hired or engaged before December 6, 2021 must have received, at a minimum, the first dose of a primary series or a single dose COVID-19 vaccine by December 5, 2021.
All Staff hired or engaged before December 6, 2021 must be fully vaccinated against COVID-19 by January 4, 2022. Individuals will be considered Fully Vaccinated if they have received all doses of their vaccination series by January 4, 2022, even if they have not yet completed the 14-day waiting period required for full vaccination.
All Staff hired or engaged after December 6, 2021 must have received, at a minimum, the first dose of a two-dose COVID-19 vaccine or a one-dose COVID-19 vaccine prior to Staff providing any care, treatment, or other services for the Facility and/or its residents. If the individual opts to use a two-dose COVID-19 vaccination, they must promptly complete the two-dose COVID-19 vaccination consistent with guidelines established by the manufacturer and/or the CDC.
EXEMPTIONS/DELAYS
If you feel you may qualify for a medical or religious exemption please see Sarah Koch, Executive Director for additional information and appropriate forms.
MEDICAL EXEMPTIONS
The only CDC medical contraindications for any coronavirus vaccine are:
Severe allergic reaction (e.g., anaphylaxis) after a previous dose or to component of the COVID-19 vaccine
Immediate (within 4 hours of exposure) allergic reaction of any severity to a previous dose or known (diagnosed) allergy to a component of the vaccine
RELIGIOUS EXEMPTIONS
Welsh Home may consider several factors in assessing whether a request for an exemption is based on a sincerely held religious belief, including whether the employee has acted in a manner inconsistent with their professed belief. No one factor is determinative, it is recognized that an individual's beliefs—or degree of adherence—may change over time and, therefore, an employee's newly adopted or inconsistently observed practices may nevertheless be based on a sincerely held religious belief. All requests for a religious exception will be evaluated on an individual basis.
TEMPORARY DELAY of COVID-19 Vaccination due to Clinical Precaution
If an individual's health care provider recommends that receipt of the COVID-19 vaccination should be temporarily delayed, Staff must provide documentation of that recommendation that is signed and dated by a licensed practitioner to Sarah Koch.
CDC recommendations for 90 day delay in vaccination include only the following:
Persons who received monoclonal antibodies or convalescent plasma for COVID-19 treatment
History of heparin-induced thrombocytopenia (HIT)
Persons receiving HCT (Hemapoietic Cell Transplantation) and CAR-T (Chimeric Antigen Receptor T) cell therapy
Other CDC vaccination shorter term delay recommendations include only the following:
Persons with prior or current COVID-19: COVID-19 vaccines can be given safely to people with prior SARS-CoV-2 infection
Persons with a known SARS-CoV-2 exposure:
In order for any of these acceptable medical contraindications or delays to be considered, they must be documented on a form we provide and completed by a medical practitioner.
ACCOMODATIONS
Employers following CDC guidelines and the new requirements for this new mandate may also be required to provide appropriate accommodations, to the extent required by Federal law, for employees who request and receive exemption from vaccination because of a disability, medical condition, or sincerely held religious belief, practice, or observance.
The regulation requires that facilities develop a process for implementing additional precautions for any staff who are not vaccinated, in order to mitigate the transmission and spread of COVID-19. Under federal law, including the ADA and Title VII of the Civil Rights Act of 1964, individuals who cannot be vaccinated because of medical conditions or sincerely held religious beliefs, practice, or observance may be entitled to an accommodation.
Accommodation or modifications that may be required but are not limited to:
COVID-19 screening completed prior to entry in the facility.
COVID-19 testing completed in accordance with current CMS requirements for routine testing of unvaccinated staff.
Use of at least a surgical mask covering at all times while in the facility, until CMS and/or the CDC determine that it is no longer required for unvaccinated staff to provide source control. Wearing Source Control (mask: surgical or N95 as indicated by the COVID-19 status in the facility at the time)
Maintain social distancing with all Staff and residents unless required in the provision of care.
EMPLOYMENT STATUS
Employees who fail and/or refuse to comply with this policy will be considered voluntarily resigning their position the first day of non-compliance and will be eligible to reapply for employment if and when in compliance.
RETALIATION
The Welsh Home follows Federal laws protecting employees from retaliation for requesting an exemption on account of religious belief or disability status.
Privacy Act Statement
Authority: Pursuant to Interim Final Rule amending 42 CFR Parts 416, 418, 441, 460, 482, 483, 484,
486, 491, and in complying with the directives contained therein (the "Regulations") requiring Coronavirus Disease 2019 Vaccination for all facility staff, including all employees, licensed practitioners, students, trainees, and volunteers and other individuals who provide care, treatment or other
services for the facility and/or its clients, under contract or by other arrangement, we are authorized to collect this information. The authority for the collection of records is set forth in 75 Fed. Reg. Vol 86, No 212 (November 5, 2021). We are required to collect this information as a condition of participation in the Medicare and Medicaid programs and failure to provide this information is mandatory
to continued employment pursuant to applicable State and Federal laws and regulations.
Purpose: This information is being collected and maintained to comply with the Regulations and to promote the safety of this workplace consistent with the above-referenced authorities, and guidance from the Centers for Medicare and Medicaid Services and the Occupational Safety and Health Administration.
Routine Uses: While the information requested is intended to be used primarily for internal purposes and for required reporting, in certain circumstances it may be necessary to disclose this information
externally, for example to disclose information to: a Federal, State, or local agency to the extent necessary to comply with laws governing reporting of communicable disease, law and regulations governing reporting vaccination information for certain workers in healthcare settings or other laws concerning health and safety in the work environment; to adjudicative bodies, arbitrators, and hearing examiners to the extent necessary to carry out their authorized duties; to contractors, grantees, or volunteers as necessary to perform their duties for Local, State or Federal Agencies; to other agencies, courts, and persons as necessary and relevant in the course of litigation, and as necessary and in accordance with requirements for law enforcement; or to a person authorized to act on your behalf.
Consequence of Failure to Provide Information: Providing this information is mandatory. Unless granted a legally required exception, all facility staff, licensed practitioners, students, trainees and volunteers and individuals who provide care, treatment or other services for the facility and/or its clients, under contract or by other arrangement are required to be vaccinated against COVID-19 and to provide documentation concerning their vaccination status to the facility. Unless you have been granted a legally required exception, failure to provide this information may subject you to disciplinary action, including and up to termination of employment or other agreement.
~~~~~~~~~~~~~~~~~~~~~~~~~~~~~~~~~~~~~~~~~~~~~~~~~~~~~~~~~~~~~~~~~~~~~~~
The Welsh Home is committed to helping provide resources to team members during these trying times. As we find resources that would be beneficial for employees, we will be posting them on this page. If you are struggling, please reach out to Kelly Michaels, HR Director, so we can look for additional resources to make it feasible for you to work to help support the residents at The Welsh Home. We are all in this together!
Employee Letter Regarding 4/13 Order from Governor
Resource: Employee Assistance Program
Click HERE for more information on our Employee Assistance Program
Resource: Additional PTO and Attendance Point Hold
Click here to read about increased PTO for employees and level of points to terminate being placed on hold. As a long-term care employee, we are committed to caring for the most at-risk population during this pandemic. We need you to be healthy, but if you are not, this new plan gives employees the security to know The Welsh Home is committed to support its team members.

Resource: Government Stimulus Checks
The United States Government is working on a plan to provide Americans with stimulus checks. Details of these checks will be available soon. When details are released, we will update here for employees. For answers to questions regarding this stimulus package, Click Here!
Resource: Aflac
Click here for Aflac information regarding COVID-19.
Resource: Childcare
YMCA of Greater Cleveland will be offering services to the following providers: Medical Personnel, First Responders, Nursing Home/Assisted Living Employees, Children Services Employees. Children will participate in a variety of activities provided by YMCA staff so that you are able to assist our community at this critical time with peace of mind. Registrations will be first come, first serve. Proof of employment must be provided upon first check-in. Please contact YMCA Payment Registrar Office at (216) 263.6860 or children@clevelandymca.org for assistance with registration. Click here for more information!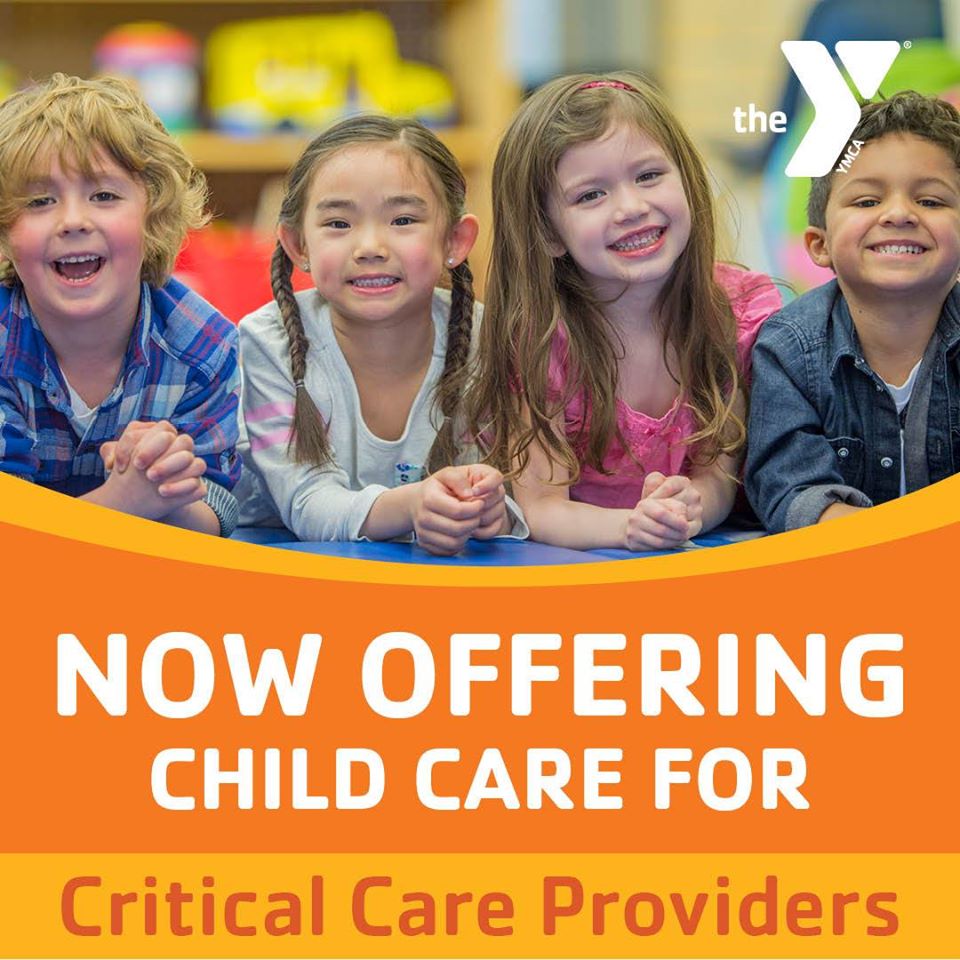 Sweet Kiddles has been approved as a "Pandemic Center." Please contact them for additional information if you are looking for childcare placement.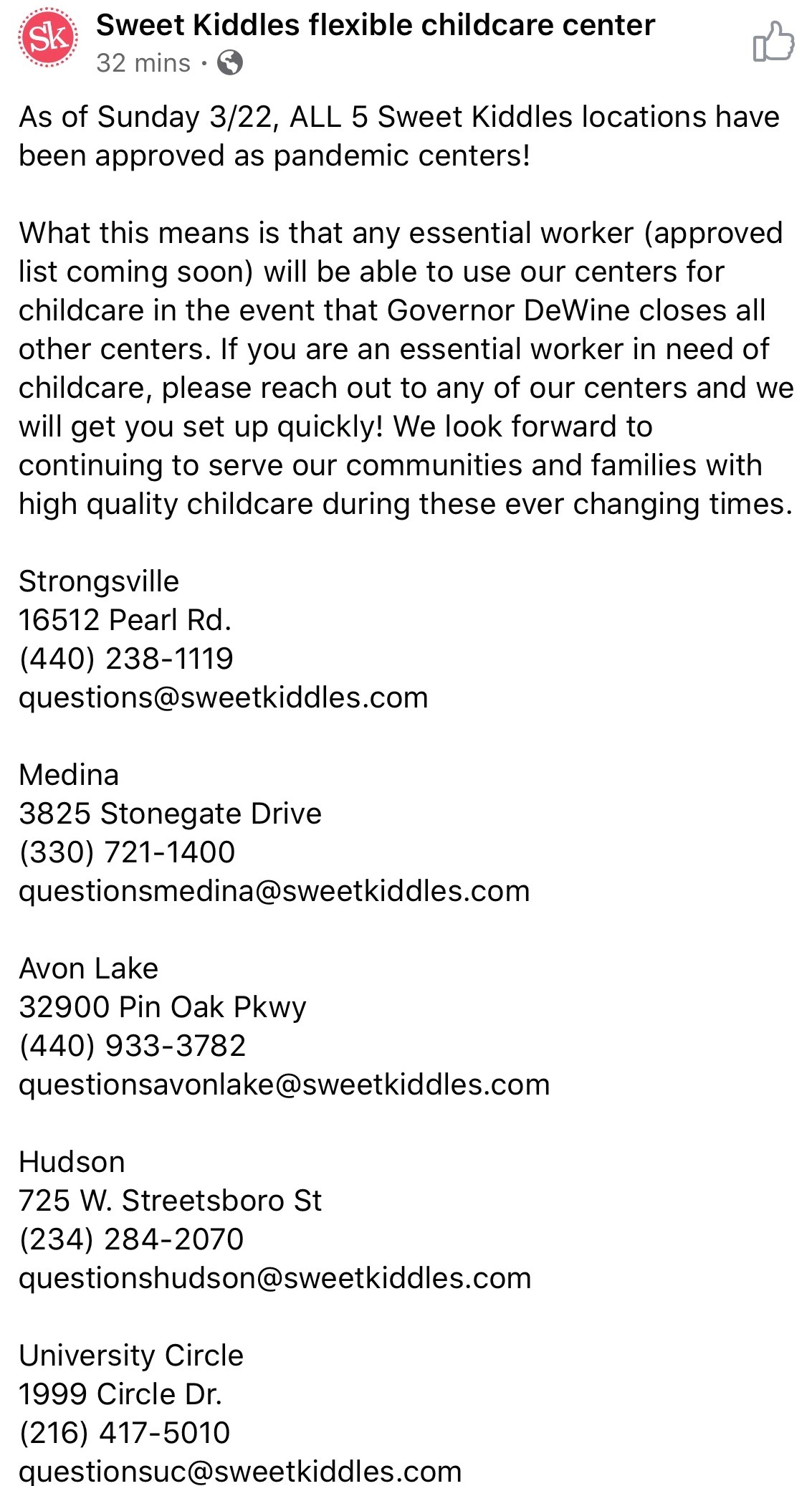 Starting Point, the official child care referral agency for Ashtabula, Cuyahoga, Geauga and Lake counties, is a place to start your search.
Starting Point maintains a list of all 2,000 preschools and day care centers in the region, along with those that have open seats and those that are full, so staff can refer parents that call their 24-hour line at 216-575-0061 or 800-880-0971
Another resource for childcare can be found at Cuyahoga County Jobs and Family Services.
Resource: Exercise
With the gyms being closed, Peloton is offering their App for FREE for 90 days! Click here to sign up for the free trial. You can get on demand cycling, running, yoga, outdoor, strength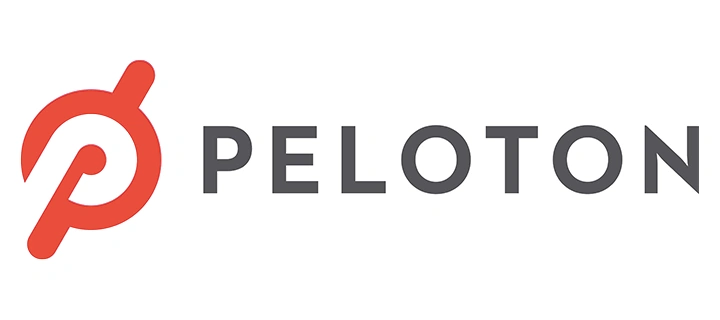 Resource: Breakfast, Lunch and Education Resources for Children
Resource: Internet
Charter will offer free Spectrum broadband and Wi-Fi access for 60 days to households with K-12 and/or college students who do not already have a Spectrum broadband up to 100 Mbps. To enroll call 1-844-488-8395. Installation fees will be waived for new student households.
Resource: Unemployment Benefit Update
Has a loved one been effected by the closing of businesses? Govenor DeWine has updated unemployment benefits. Make sure they take advantage of those today!
Resource: Managing Stress